Wir stellen vor: Das IceLab ab 2023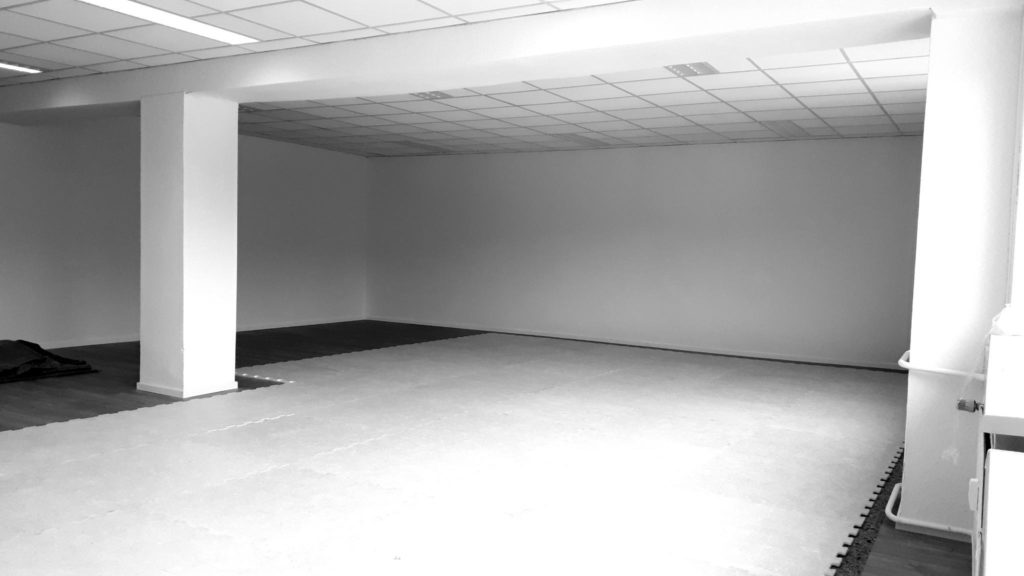 Mietpreise
*** regelmäßige oder Langzeitnutzungen für Produktionen haben Vorrang ***

großer Raum | 100qm | Like-Ice (Kunststoff-Boden, 1 Säule)
kleiner Raum | 40qm | Tanzteppich
pro Stunde:
für 1-2 Personen: 10,- €
ab 3 Personen: 15 €
pro Tag: 80,- € VB
pro Wochenende: 150,- € VB
Work Space
pro Stunde: 2,- €
Melde dich mit deinem Bedarf gerne direkt bei uns!
Kontakt: laura.wolf@icelab-leipzig.de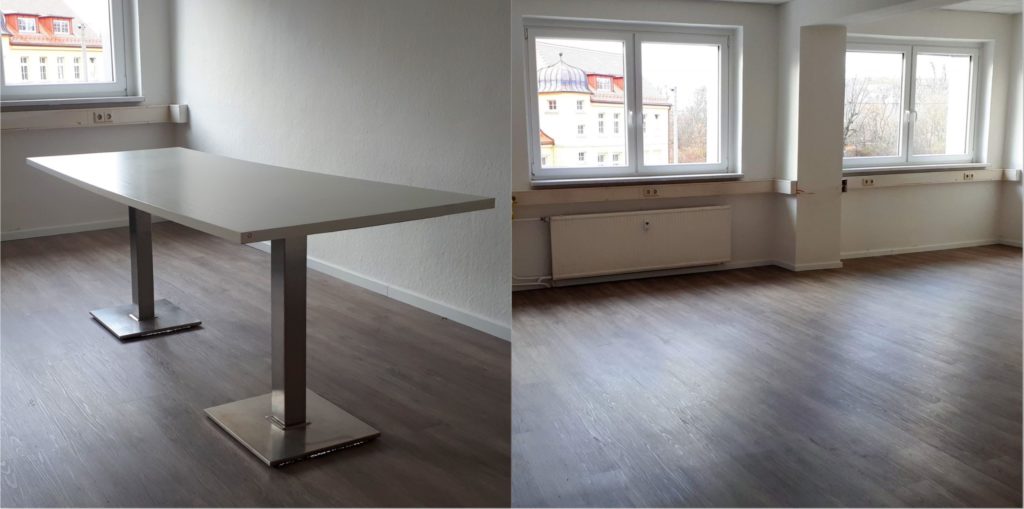 Neuer Tanz-, Kreativ- und Co-Working Space
english below
Wir freuen uns sehr, dass wir mit dem IceLab Leipzig ab dem neuen Jahr zwei sehr schöne neue Räume mit der Leipziger Kunst- und Kulturszene teilen dürfen.
Wir selbst arbeiten in dem größeren der beiden Räume (etwa 100qm, siehe Foto) auf Kunststoffeis. Das dort liegende Like-Ice ist gleitfähiger Kunststoff und kann mit Schlittschuh, Schuhen mit heller Sohle oder in Strümpfen betanzt und beprobt werden. Zudem können drei Bahnen Tanzteppich ausgerollt und genutzt werden, welche eine Fläche von 4,5m * 10m abdecken. In dem kleineren der beiden Räume (etwa 53qm) stehen momentan ein paar unserer Lagersachen und ein großer Schreibtisch. Letzterer sowie der Raum selbst können ebenfalls flexibel stunden- oder tageweise zu fairen Preisen gemietet werden. Der Boden besteht aus Laminat.
Beide Räume sind beheizt und haben auf jeweils einer langen Seite eine große Reihe Fenster, sodass Tageslicht hineinflutet. Der Blick aus dem großen Raum fällt auf das herrliche Grün des Schönauer Parks, an dem das Gebäude direkt gelegen ist.
Das neue Zuhause des IceLabs befindet sich in der ersten Etage über einem Supermarkt in Schönau im Leipziger Westen. Es ist fußläufig von Straßen- und Bushaltestelle zu erreichen und bietet Parkmöglichkeiten. Leider sind die Räume nicht barrierefrei zugänglich.
Beide Räume sind stunden- und tageweise für euren Bedarf anmietbar. Der Schreibtisch ermöglicht es auch zu zweit konzentriert zu arbeiten und ist gleichzeitig hervorragend für ungestörte Meetings geeignet.
Ob einmalig oder regelmäßig, fragt uns einfach mit eurem Bedarf an! Die Mietpreise findet ihr auf unserer Website: www.icelab-leipzig.de/kurse-workshops Hier seht ihr auch unseren aktuellen Kursplan. Aktuell finden diese nur im größeren Raum statt.
***
New dance, creative and co-working space
With the IceLab Leipzig we are very happy to share two very nice new rooms with the art and culture scene starting with the new year.
We ourselves work in the larger of the two rooms (about 100sqm, see photo) on plastic ice. The Like-Ice lying there is slippery plastic and can be danced on and sampled with skates, shoes with light soles or in stockings. In addition, three lanes of dance carpet can be rolled out and used, covering an area of 4.5m * 10m. In the smaller of the two rooms (about 53sqm) are currently a few of our storage things and a large desk. The desk as well as the room itself can also be rented flexibly by the hour or day at fair prices. The floor is laminate.
Both rooms are heated and have a large row of windows on the long side, so daylight floods in. The view from the large room falls on the beautiful greenery of Schönauer Park, on which the building is directly located.
The IceLab's new home is located on the second floor above a supermarket in Schönau in Leipzig's west. It is within walking distance of tram and bus stops and offers parking. Unfortunately, the rooms are not barrier-free accessible.
Both rooms can be rented by the hour or day for your needs. The desk makes it possible for two people to work in a concentrated manner and is also excellent for undisturbed meetings.
Whether one-time or regular, just contact us with your needs! You can find the rental prices on our website: www.icelab-leipzig.de/kurse-workshops There as well you can see our current course schedule. Currently, these courses only take place in the larger room.