Many thanks to all the supporters and the numerous visitors!
CONTEMPORARY DANCE ON SKATES. PERFORMANCE.
ICE. INTERNATIONAL SHORT FILMS. EXHIBITION. PARTY!
The 1st Open Stage of Leipzig for contemporary dance on skates
took place on Saturday, 6th of May in our rooms at Schönauer Straße 240. It was supported by the Small Projects Programme of the Cultural Office of the City of Leipzig.
An evening with dance, music, gallery, international dance films and exchange.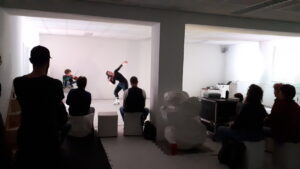 2023 impressions
ider id=1225]